There are plenty of reasons to live in New Zealand. Whether you want to live in a multicultural city like Auckland or Wellington or spend time in the great outdoors, life in New Zealand has a lot to offer short- and long-term residents alike.
But as a remote country with a high cost of living, life in New Zealand has its downsides too. Here's what you need to know about the pros and cons of living in New Zealand as well as how to apply for a visa if you want to live, work, or retire there.
What is living in New Zealand really like?
Despite its small size—New Zealand has a population of around 5 million people—the country has a global reputation. According to the Global Peace Index, New Zealand is the second-safest country in the world, only behind Iceland.
New Zealand residents have a high quality of life, with a universal healthcare system and a healthy work-life balance. But depending on where you choose to live in New Zealand, you'll find that job opportunities and the cost of living can vary widely.
Let's take a look at the pros and cons of living in New Zealand as well as a few other things to consider before calling the country home.
Pros of living in New Zealand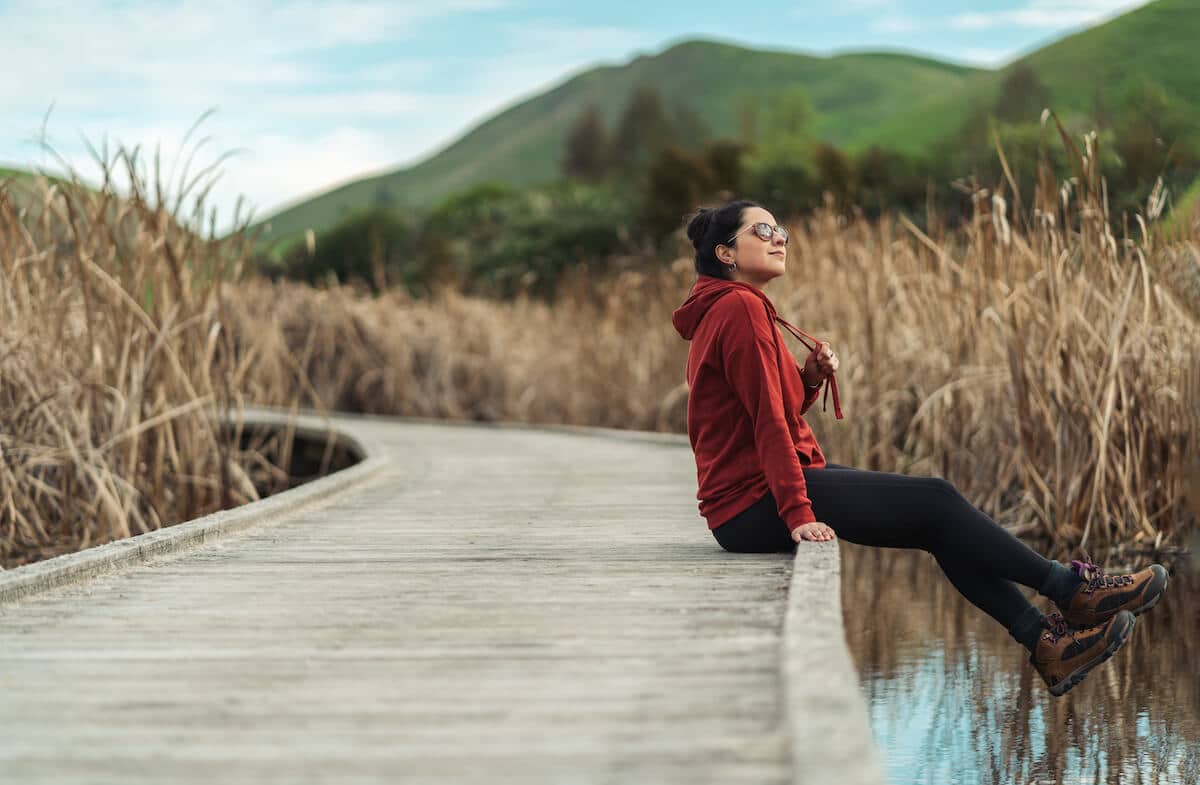 First, the good stuff: New Zealand has an abundance of nature, a multicultural food and arts scene, a strong social safety net, and more. Here are three major benefits of living in New Zealand.
Natural beauty
New Zealand is famous for its natural beauty, including places like Tongariro National Park, a filming location for The Lord of the Rings movies. Outdoor lovers can enjoy hiking, biking, white-water rafting, paragliding, and kayaking in the fjords.
Multiculturalism
New Zealand is a welcoming country that offers a new home to migrants from all over the world. Alongside the indigenous Māori culture—whose members call the country "Aotearoa"—you'll find a diverse range of cuisines, cultural activities, and nightlife.
English is one of three official languages—the others are New Zealand Sign Language and Te Reo Māori—which makes it an easy adjustment for expats from the USA or the United Kingdom. It also has a simple decimal currency, the New Zealand dollar.
Social safety net
If you're living in New Zealand on a permanent resident visa, you'll get access to the country's universal health insurance coverage and education system. Other benefits include a stable, democratic government and high levels of gender equality.
Cons of living in New Zealand
Despite the positives, there's more to New Zealand than what you see in the photos, and these two concerns may be dealbreakers for some would-be residents.
Unpredictable weather
New Zealand's climate ranges from subtropical weather on the North Island to alpine conditions on the South Island. You'll need to be prepared for unpredictable weather patterns, and natural disasters such as earthquakes and volcanic eruptions.
While New Zealand gets plenty of sun in the summer, it's also home to some of the highest rates of skin cancer in the world.
Remote location
You might discover that New Zealand feels far removed from the rest of the world. It's only a short flight to Australia and the Pacific Islands, but flights to other parts of the globe—especially Europe and North America—can be long and expensive.
Plus, New Zealand's time zone could make it difficult to keep in touch with friends and family back home.
Cost of living in New Zealand
Before you start a new life in New Zealand, it's important to put together a budget and get familiar with New Zealand currency. The cost of living in New Zealand can be very different if you choose to live in a rural area vs. one of its biggest cities.
The New Zealand Immigration Department has its own cost of living calculator that you can use to estimate your expenses.
Let's say that you choose to rent an apartment in Auckland and work as a registered nurse. You can expect an annual salary of $64,800 NZD, and the following monthly expenses (rounded up to the nearest ten):
$500 for food
$1,200 for housing
$400 for transportation
In Christchurch, on the other hand, you can expect a higher salary ($71,500 NZD) and slightly lower living expenses:
$480 for food
$950 for housing
$360 for transportation
Smaller towns can be a good choice if you want a relaxed way of life with a low cost of living, but you may have access to fewer amenities, such as cafes, nightlife, and public transport. Popular tourist towns like Queenstown will also have a different range of job opportunities than major cities like Auckland and Wellington.
Wages, Taxes, and Retirement
New Zealand has a high minimum wage and a progressive tax system. The minimum wage for adults is $21.20 per hour, and personal income taxes range from 10.5% for your first $14,000 to 39% for any income over $180,000.
If you're a citizen or permanent resident, your employer will contribute to a retirement fund (called Kiwisaver) on your behalf. If you're only in New Zealand on a temporary visa, such as a working holiday visa, you can opt out.
As for retirement, there isn't an official age, but most pension plans start paying out when you turn 65.
New Zealand visas
In order to live in New Zealand for the long term, you'll need to apply for a visa. There are several kinds of visas you may be eligible for, such as:
A working holiday visa: This visa is for young people (usually under 35) who want to travel around New Zealand while working seasonal or temporary jobs in industries like hospitality and agriculture. It's valid for one year, but you may be able to extend it.
A student visa: This visa is for full-time students and allows you to work for up to 20 hours per week when classes are in session.
A family visa: If a family member, such as a partner or a parent, is a permanent resident or citizen, then you may be eligible to join them.
A skilled work visa: Skilled workers seeking employment in certain fields may be eligible for employee sponsorship.
Investment visas: If you want to retire in New Zealand without working there first, you may be eligible for citizenship by investment. But it will cost you. The Active Investor Plus visa requires a minimum of $15 million in investments.
Once you're a New Zealand citizen, you'll also be eligible to live and work in Australia under a Special Category visa. Australian citizens get the same privilege in return.
Officially, New Zealand is still part of the British Commonwealth, but New Zealanders don't get any special rights in the United Kingdom or other member states.
Should you move to New Zealand?
New Zealanders—or "Kiwis" for short—are laid-back, friendly people with a beautiful landscape they call home. And compared to cities like New York and London, New Zealand has a reasonable cost of living and a low crime rate.
But depending on where you're moving from, life in New Zealand can still come with a bit of a culture shock. Kiwis drive on the left side of the road, tipping is rare, and some common pets are restricted to protect the native wildlife.
You'll also have to get used to using New Zealand currency. If you plan to work while living in New Zealand and send money back home, use an international money transfer app so you can get low fees and a fair exchange rate.
Send NZD around the world
Remitly is a money transfer app that makes it easy to send money to friends and family members around the world. You can fund your transfer with a debit card or credit card, and track its progress by email or SMS. Your recipient will receive the money via bank deposit, cash pickup, or one of several other delivery options.
Over 5 million people have sent money home with Remitly. Download the mobile app today to start your first transfer!
Further reading