New Zealand (NZ) is famous around the world for its stunning views and natural beauty. It's also a welcoming, multicultural country that many people around the world seek to call home. If you're thinking of applying for New Zealand citizenship, you'll need to qualify by one of three pathways: birth, residence, or investment.
Here's everything you need to know about becoming a New Zealand citizen, including the rights, benefits, and responsibilities that come along with it.
3 pathways to New Zealand citizenship
Although New Zealand offers visa-free travel for short-term visitors from many countries, you'll need to apply for a resident visa or citizenship if you want to stay in NZ long-term.
The exception is if you're an Australian citizen, in which case you can live and work in New Zealand indefinitely without applying for a work visa.
The New Zealand government provides at least three pathways for migrants to pursue NZ citizenship, depending on your eligibility.
Citizenship by birth or descent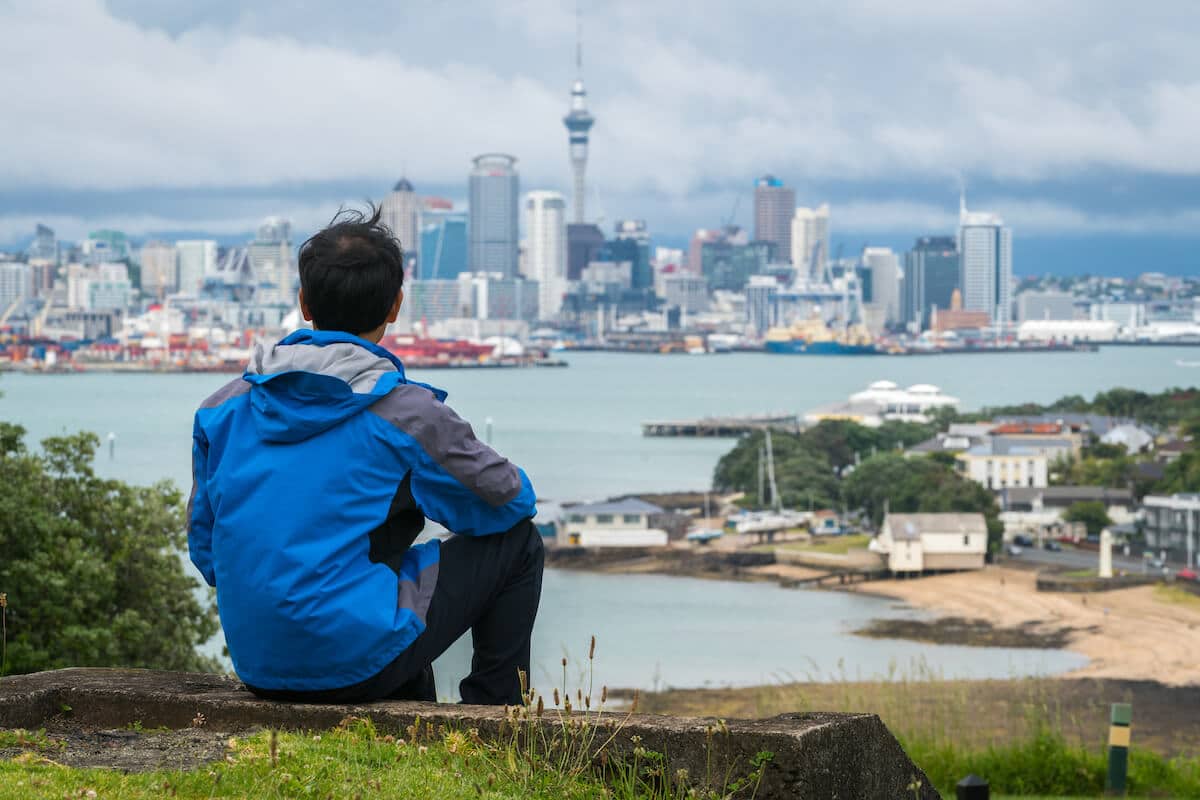 Prior to January 1, 2006, New Zealand offered citizenship to all babies who were born in the country. Now, only babies who are born in the country and have at least one parent who was a citizen or permanent resident are eligible for automatic citizenship.
Children who were born to New Zealand parents outside of the country may be eligible for citizenship by descent, but need to register their status to obtain a passport. This costs between $204.40 and $403.40 in New Zealand dollars (NZD), depending on your age.
Citizenship by grant
For migrants without ties to New Zealand, the most direct pathway to becoming a citizen of New Zealand is by grant. This is similar to citizenship by naturalization in the U.S., in which you become eligible after living within the country for a certain amount of time.
According to the Citizenship Act 1977, you'll need to have lived in New Zealand on any valid resident visa for at least five years. That could be one of the following:
A skilled work visa
A family visa (such as a partner visa)
You can visit Immigration New Zealand at immigration.govt.nz to see what other visa options are available. You'll also have to meet the residence requirements and good character requirements to be eligible.
New Zealand citizenship by investment
Technically, citizenship by investment is a type of citizenship by grant, since you'll still need to meet the residency requirements and fill out a citizenship application. But the process to get there is a little different.
Instead of coming to New Zealand to live and work, you need to make an investment in NZ stocks, bonds, or property.
The Active Investor Plus visa requires you to make an investment of $15 million NZD, putting it outside the reach of most migrants.
According to Invest New Zealand, it also requires applicants to "spend 117 days in New Zealand across the four-year conditional visa period" before becoming eligible for permanent residency or citizenship.
How to apply for New Zealand citizenship
In addition to living in New Zealand for at least five years, there are a few more eligibility requirements you'll need to meet. These include:
Presence in New Zealand: You'll need to have spent at least 240 days in New Zealand per year, and 1,350 days in total over the previous five years.
English language skills: You may need to demonstrate basic English language proficiency in the form of a school certificate or IELTS exam.
Character requirements: Any criminal charges or convictions could impact your eligibility for citizenship. You may need to provide a police check from any other countries you've lived in.
You can apply for New Zealand citizenship online or in-person.
At the time of this writing, it costs $470.20 NZD for adults (over 16) and $235.10 NZD for children. You'll need the following documents:
Your birth certificate
Your existing passport
A passport photo (less than six months old)
Your application form
If you're applying online, you'll also need a computer or mobile device with a camera as well as an account at RealMe to confirm your identity.
Processing times and citizenship ceremony
Once you've submitted your application, you can expect it to take anywhere from 4-19 months for the Department of Internal Affairs to review it.
The amount of time they take will depend on how much of your information can be verified automatically. Any name changes, gaps in residency, or missing documents could delay the process.
If the department determines that you're eligible for NZ citizenship, they'll invite you to attend an official citizenship ceremony. If you can't make it, you can let them know, but you'll need to attend one within a year of their decision.
You'll make an oath or affirmation of allegiance and get a citizenship certificate. Then, you can apply for a passport, which costs $199 NZD and takes about two weeks.
Rights and responsibilities of New Zealand citizenship
Becoming a New Zealand citizen can be a lengthy process, but it offers several benefits that aren't available to all New Zealand residents. These include the right to:
Obtain a New Zealand passport
Receive social security benefits
Access the publicly funded healthcare system
Sponsor a family member's visa application
Run for public office
In return, you'll need to:
Register to vote
Pay taxes in New Zealand
Abide by the laws of New Zealand
However, it's worth noting that permanent residents have many of the same rights and responsibilities as citizens, and you don't need to apply for citizenship to access them. The main advantage to citizenship over a permanent resident visa is that you'll never lose the right to return to New Zealand, and you can apply for an NZ passport.
New Zealand allows for dual citizenship, so you can hold multiple passports, unless your other country of citizenship prohibits it.
New Zealand: A brief overview of the country and its history
New Zealand is a country in the Pacific Ocean made up of two large islands and dozens of smaller ones. The North Island is home to New Zealand's capital city (Wellington) as well as its largest city (Auckland), while the South Island is less densely populated, with only 1.2 million out of the country's 5.1 million inhabitants.
While New Zealand shares an official language with Australia—and most New Zealand citizens are free to live and work there—there are plenty of differences between the two countries. Australia is the world's oldest inhabited continent, while New Zealand's indigenous population, the Māori, arrived by sea as recently as the 1300s.
The Treaty of Waitangi established a British colony in New Zealand in 1840, and the country has never formally declared independence from Great Britain. New Zealand's currency still features Queen Elizabeth II, and the NZ citizenship ceremony includes taking an oath of allegiance to "His Majesty King Charles III."
But New Zealand has taken steps to acknowledge its indigenous history, and te reo Māori, or the Māori language, is one of three official languages of New Zealand, alongside the English language and NZ Sign Language. Some government documents refer to the country as Aotearoa New Zealand to reflect its traditional Māori name.
Get familiar with New Zealand currency
Before relocating to New Zealand, it's worth getting familiar with the New Zealand dollar, which is the same unit of currency used in the U.S., Australia, and Hong Kong. But the NZ dollar is its own currency with its own exchange rate, so the value of the NZ dollar can go up and down over time compared to other currencies of the world.
If you need to send money to or from New Zealand to friends or family in another country, an international money transfer app like Remitly makes it easy.
Over 5 million customers use Remitly to send money around the world with peace of mind, thanks to our convenient mobile app and real-time delivery notifications.
Download the app today to set up a free account and send your first transfer.
Further reading