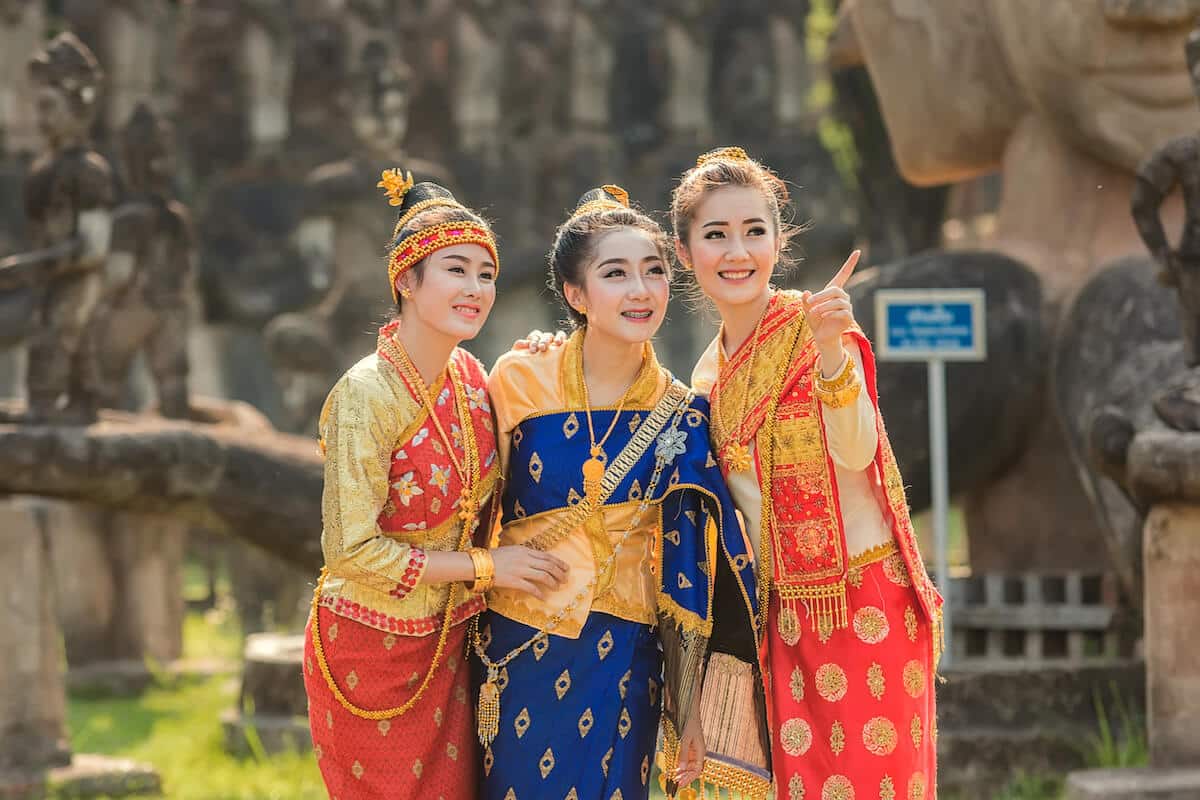 Sending money to Laos works a little differently than sending money to other countries in the region. While the Thai baht is widely known and traded around the world, the Lao kip isn't easily available outside the country. In fact, in Laos, you'll find the U.S. dollar used alongside the local Lao currency for some cash transactions.
Whether you're taking a trip to Southeast Asia or send money to family or friends in Laos, here's what you need to know about Lao currency and how it differs from other currencies like the U.S. dollar.
History of Laos' money
Lao culture dates back thousands of years, but the Lao kip has only been the official currency of Laos since the 1950s. Before its independence in 1953, Laos was a French protectorate and used the Indochinese piastre as its official currency.
Starting in 1945, the Free Lao government began to issue the Free Lao kip, which was formally adopted as the national currency in 1952.
Other versions of the kip include the Royal kip (printed in France in the 1950s) and the Pathet Lao kip (printed in China in the 1960s). In 1975, Laos became the Lao People's Democratic Republic, or Lao PDR, and the country transitioned to the Lao PDR kip issued by the central bank, or the Bank of the Lao PDR.
Today, you can recognize the Lao kip by the letters LAK and the symbols ₭ or ₭N in any currency conversion tool that you use to check exchange rates.
Laos' currency exchange rate and denominations
So what does the currency in Laos actually look like? Like many currencies, it comes in the form of coins and banknotes, although kip coins are no longer in regular use due to high inflation.
Originally, the kip was broken up into 100 att, but these days, the smallest unit of Laos' currency with any value is the 1,000 banknote. You can find these banknotes in various increments, all the way up to 100,000 kip.
Banknotes are decorated with iconic Lao figures and landmarks, including President Kaysone Phomvihane and the Theun-Hinboun Hydroelectric Powerhouse.
Exchanging Laos' currency
Laos has one of the fastest-growing economies of Southeast Asia. But although the currencies of neighboring countries, such as Thailand, Vietnam, and Cambodia, are traded around the world, the kip is only used in Laos.
That means if you're visiting Laos, you'll have to exchange any kip back into your home currency before you leave. And if you use Remitly to send money to Laos, your loved ones will receive your transfer in USD.
Laos has a growing economy, but according to the World Bank, the value of the kip had dropped by around 30% as of early 2022. The World Bank expects the GDP to grow by 3.8% by the end of the year as the economy recovers.
As of June 30, 2022, 1 USD equals 15,008 LAK. In other words, the largest kip banknote is worth 100,000 kip, or almost 7 U.S. dollars.
8 interesting facts about Laos
If you're planning to visit Laos, or have friends or family there, understanding the basics of Laos' currency is important. But there's more to the country than its economy. Here are eight interesting facts about Laos that you may not know:
Laos is a landlocked country: Because it's surrounded by five other countries, Laos doesn't have direct access to the sea. But the Mekong River is one of the longest in Asia and provides an important means of transportation in Laos.
Laos has 7 million residents: That's smaller than the populations of neighboring Thailand and Vietnam, but it's made up of as many as 240 distinct ethnic groups.
Laos is primarily Buddhist: Around two-thirds of the population practices some form of Buddhism, and many Lao men study as monks at some point in their life. The most common practices derive from Theravada Buddhism.
Laos is a socialist republic: The Lao PDR is a one-party state that adopted its current constitution in 1991. Its current president is Thongloun Sisoulith, and it has an army of almost 30,000 soldiers known as the Lao People's Armed Forces.
In a typical year, Laos receives nearly 5 million tourists: Over 2 million visitors come from Thailand and over 1 million come from China. One of the most popular places to visit is Luang Prabang, a UNESCO World Heritage Site known for its temples.
Lao is the country's official language: Although the Lao script is similar to Thai, the Lao language has its own writing system. Other languages commonly spoken in Laos include French, English, and ethnic minority languages such as Hmong.
Laos is home to a rare dolphin species: Despite being landlocked, Laos has one of the world's rarest dolphin species—the Irrawaddy dolphin, which lives in the Mekong River. Sadly, estimates suggest there may be fewer than 100 of them left.
Its biggest export is electricity, including hydroelectric power: Based on data from 2020, Laos exported products worth a total of $6.25 billion. Electricity accounted for $1.93 billion in exports, followed by gold, rubber, and copper.
Using currency in Laos
Although Visa and Mastercard are accepted in many parts of Southeast Asia, Laos is still very much a cash-based economy. If you're traveling in major cities like Vientiane and Luang Prabang, you won't have any trouble finding ATMs and using credit cards at major establishments that cater to tourists.
But if you're planning to visit smaller businesses or rural areas, you'll need to carry cash. Fortunately, many businesses use the Thai baht and the U.S. dollar, along with the kip, so you may not need to convert your money to spend it in Laos.
However, there are limits to how much USD you can bring into the country, so you'll need to declare any amount above $2,000 USD.
Furthermore, since the U.S. dollar is higher in value than the kip, you'll want to carry small denominations if you plan to use USD for everyday purchases.
Tipping isn't obligatory or expected in Laos, but if you happen to leave a small tip in Lao currency, be sure to count the zeros.
Use Remitly to send money to Laos
Since you can't take kip banknotes into Laos and you can only carry a limited amount of USD, a great way to send money to Laos is to use a money transfer service.
With Remitly, your recipient will receive the funds in USD, so there's no need to worry about getting the best exchange rate on your transfer. Your recipient can simply use a local currency exchange service if they need to convert the money into Lao kip.
Either way, you can track your money transfer from your mobile device or set up an SMS notification, so you know when it's arrived.
Remitly is trusted by over 5 million people to send money home to loved ones. Simply download the app to get started.
Further reading

&nbsp &nbsp