Dubai, also nicknamed the "City of Gold," is a massive business and financial hub in the United Arab Emirates (UAE), attracting millions of visitors and prospective residents from all over the world. It's no surprise then that the cost of living in Dubai is substantially high, compared to other cities in the UAE.
If you're considering visiting or living in Dubai, here's everything you need to know about the average cost of living in Dubai. We'll calculate the average monthly cost by breaking down the lifestyle factors influencing living expenses in Dubai and dive into detail about the city's currency to help you plan a budget.
Is Dubai expensive?
Dubai is an expensive city compared to other UAE locales. Numbeo's cost of living index estimates that a single person in Dubai needs about 3,700 United Arab Emirates Dirham (AED), or $1,000 USD per month, excluding rent.
On the other hand, someone living in Abu Dhabi would need 3,100 AED, or $860 USD, per month, excluding rent.
The monthly cost of living in Ajman is even less expensive at just 2,300 AED, or $650 USD, per month, excluding rent.
Dubai is less expensive than NYC, London, and Berlin, however,so how pricey you find Dubai depends on your city of origin.
Factors affecting the cost of living in Dubai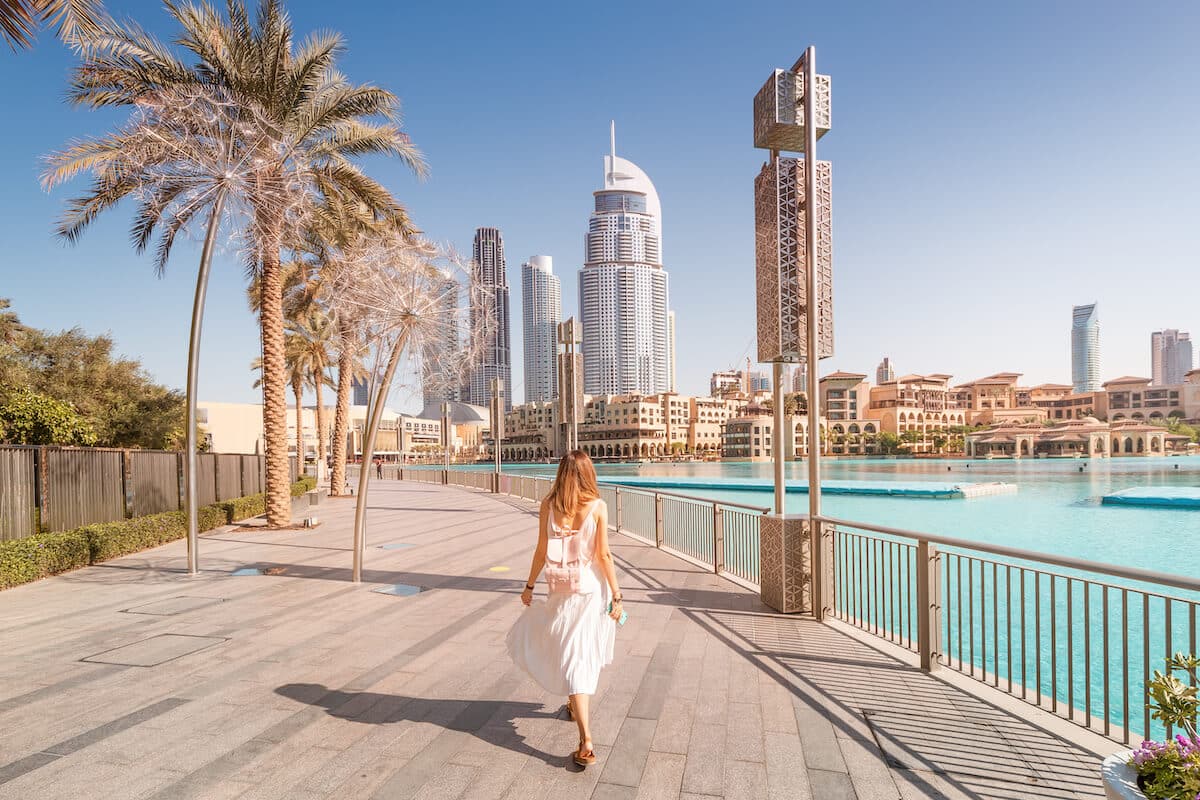 The cost of living in Dubai varies depending on where you choose to live, how often you eat out, how much you spend on entertainment, whether you use public transport or a private car, and several other factors.
Let's break down the primary living expenses to find the average cost of living in Dubai based on your lifestyle.
Housing in Dubai
Both buying and renting are expensive in Dubai as real estate continues to grow in demand.
According to Numbeo, the price per square foot to buy an apartment in the city center is about $336.95 USD and $222.46 USD if you're buying outside the city center.
Monthly rent for a one-bedroom apartment in the city center is about $2,000 USD and $1,100 USD if you rent outside the city center.
If you're living with family or friends and need a larger space, get ready to shell out about $3,400 USD per month for a three-bedroom apartment in the city center and $2,100 USD per month for one outside the city center.
Food Expenses in Dubai
The average monthly expenses for food vary depending on whether you buy groceries and cook at home or prefer eating out regularly.
Here's what you can typically expect to pay for dining out (prices are in USD):
Meal in an inexpensive restaurant: $10
Three-course meal for two in a mid-range restaurant: $81
Fast food like McDonald's: $8
Cappuccino: $5
Coke: $1
Here's what you can expect to pay for groceries (prices are in USD):
White rice: $1 for one pound
Eggs: $3 for a dozen
Tomato: $0.71 for a pound
Potato: $1 for two pounds
Milk: $7 for a gallon
Healthcare in the UAE
Healthcare is another major living expense, especially in expensive cities like Dubai. Dubai has universal healthcare for its citizens, and mandates that all residents have health insurance.
If you're in Dubai on an employment visa, then your employer must provide medical insurance.
For lower-salaried employees, an employer will provide coverage to the Essential Benefits Plan, which provides affordable care. On this plan, you should expect to pay 20% copays and have copays capped at 1,000 AED per year.
For employees who make more than 4,000 AED per month, the employer will provide a different healthcare plan that's as good as or better than the Essential Benefits Plan.
However, employers are not required to extend coverage to your spouse or dependents. So if you're an expat moving abroad with your family, you may have to provide coverage for your loved ones.
If you're an expat in Dubai on a self-sponsored visa, such as an investor visa (also called a Golden Visa), you will be responsible for securing your own health insurance coverage for yourself and your family.
As of 2022, Golden Visa holders are eligible for an Esaad privilege card. Among other benefits, the card provides access to exclusive health insurance plans. The cost of these plans range from 2,393 AED to 39,857 AED per year.
If you are not eligible for the above coverage options, you will need to secure private insurance.
Dubai Transport
Here's what you can expect to budget for transportation costs (prices in USD):
Taxis: Starts from $3
Local transport: $1.63 for a one-way ticket
Gas: $3.54 for one gallon
A new car: $20,000-$30,000
Education in the UAE
If you're moving here with your family, budget for education costs. Dubai has both public schools and private schools for you to choose from.
UAE citizens can study for free, while international citizens can join the same institutions for a fee.
Here's what the school fees look like in Dubai, according to Numbeo:
Private kindergarten typically costs a little over $750 USD per child per month.
International school for primary education costs about $11,600 USD per child per year.
Shopping and entertainment
Other expenses like internet, clothes, and gym memberships add to the cost of living. Here's what such living expenses in Dubai cost (prices in USD):
Internet: 60 Mbps for $100
Utility bills (heat, electricity, water, etc.): $200
Gym membership: $75
Movie: About $13 per seat
Jeans: $60
Dress: $53
Mid-range shoes: $90
Monthly salary in Dubai
The cost of living in Dubai is high but so is the average monthly salary. An average person makes about $4,000 USD after tax per month.
Dubai is a major business and finance hub full of high-net-worth individuals, so you have plenty of opportunities work with a big company or start your own business.
Dubai's currency
Dubai uses the United Arab Emirates Dirham as its currency. It is often shortened to UAE Dirham or just AED.
One dirham is divided into 100 fils.
Wondering what one AED equals in your currency? Find the latest exchange rates using Remitly.
Dubai has a thriving economy so you can easily use cash as well as credit cards for your transactions. Online payments are accepted in most regions, and you will find plenty of ATMs everywhere.
Sending money to Dubai
If you're planning to live in Dubai, you need an easy, hassle-free way to send money back home to family and friends. Remitly can help.
Remitly makes international money transfers faster, easier, more transparent, and more affordable. Our reliable and easy-to-use mobile app is trusted by over 5 million people around the world.
Download the app today to get started.
Further reading