Mexico is a popular destination for retirees, expats, and digital nomads from the U.S. and other developed nations who are looking for a lower cost of living. The exact cost of living in Mexico varies based on location and lifestyle, but monthly expenses tend to be lower than in major cities in the U.S., U.K., Australia, and Canada.
This makes moving to Mexico ideal for anyone looking to relocate to a region where their income can go farther.
Before you're ready to make the move, take a look at how much money you'll need for your new Mexican lifestyle.
Cost of living in Mexico by city
Living costs vary quite a bit depending on the size, wealth, and popularity of the Mexican city.
Here's a quick comparison of the typical monthly expenses to afford a decent quality of life in various parts of Mexico. All data pulled from Numbeo and updated for 2023.
The approximate average prices in Mexico City:
One-bedroom apartment in the city center: $793
Cappuccino: $2.80
Milk: $5
Meal for two in a mid-range restaurant: $40
Gym membership: $47
Movie ticket: $4.70
Internet: $27.60
The average prices in Tulum:
One-bedroom apartment in the city center: $586
Cappuccino: $2.50
Milk: $4.70
Meal for two in a mid-range restaurant: $36.80
Gym membership: $56.30
Movie ticket: $2.70
Internet: $29.30
The average prices in Cancun:
One-bedroom apartment in the city center: $585
Cappuccino: $2.60
Milk: $4.50
Meal for two in a mid-range restaurant: $42.15
Gym membership: $31.30
Movie ticket: $3.70
Internet: $25
The average prices in Valladolid:
One-bedroom apartment in the city center: $158
Cappuccino: $2.90
Milk: $4.40
Meal for two in a mid-range restaurant: $15.80
Gym membership: $25.20
Movie ticket: $3.40
Internet: $25
The average prices in Playa del Carmen:
One-bedroom apartment in the city center: $924
Cappuccino: $2.80
Milk: $4.30
Meal for two in a mid-range restaurant: $28
Gym membership: $45.20
Movie ticket: $3.90
Internet: $22.30
Factors in Mexico's cost of living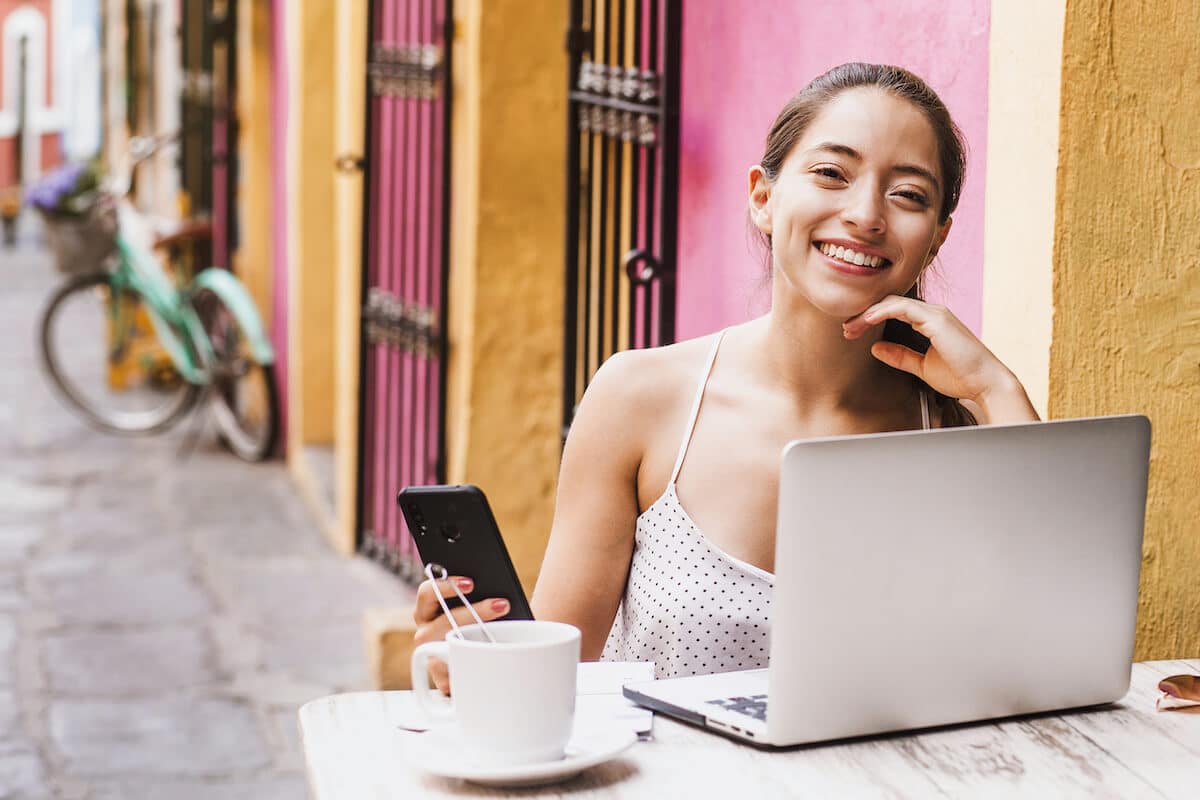 The cost of living in Mexico is typically lower than the U.S., U.K., Australia, and Canada—as housing, food, transportation, entertainment, and healthcare is cheaper there.
For example, as of this writing, Numbeo's cost of living comparison tool shows that prices in the U.S. are 86.5% higher than in Mexico.
This means you can enjoy a good quality of life in Mexico on a similar or even a lower salary than what you earn in the U.S., U.K., Australia, and Canada.
Some reports suggest a single person can easily live on under $1,000 a month in Mexico, but this really depends on your lifestyle.
If you eat out frequently, enjoy the nightlife, and live in the more touristy parts of Mexico (like Mexico City, Tulum, or Cancun), your living costs will be higher. Conversely, your money goes further when living in a small town, cooking at home, and using public transportation.
Consider these factors to help you find the average cost of living in Mexico based on your spending habits.
Housing
Buying or renting a house is usually the biggest expense of relocating.
Fortunately, housing in Mexico is relatively inexpensive, so you can find a bigger property for much lower rates than what you would spend in the U.S.
Real estate costs away from the city center in small towns are cheaper. If you're on a tight budget, you may want to consider moving to less touristy areas of Mexico.
A one-bedroom apartment in a destination Mexican city like Playa del Carmen comes with a monthly rent of $940, while a similar apartment in Valladolid is available for just $160.
Food
In general, buying food in Mexico is quite cheap.
Dining out is relatively less expensive in Mexico, especially if you opt for street food. Food carts selling street tacos and other local favorites are usually even cheaper than a fast food chain like McDonald's.
Even going to a fancy restaurant may be affordable, as you can dine out twice in a mid-range restaurant in Mexico for the same price as one meal out in the U.S.
Transport
The cost of public transportation in Mexico is fairly low, with a one-way local bus ticket costing around $0.50. Buying a car will cost you about $18,000 on average.
Gas prices in Mexico start at $5 for a gallon, which can be prohibitive for commuters. Easily accessible buses (and the subway in Mexico City) will save you money.
Healthcare
Healthcare can be a massive expense, but you can find fairly low costs in Mexico.
For instance, the Instituto de Salud para el Bienestar (INSABI) offers free medical coverage to all legal residents if they can't pay for their health insurance and treatments.
Employed Mexican citizens have to contribute to the Instituto Mexicano del Seguro Social (IMSS), which is the Mexican social security system offering full healthcare coverage, including doctor visits, hospital stays, surgeries, and prescription drugs.
These services may have long wait times, but you can opt for private healthcare providers by paying out of pocket.
When paying out of pocket, a doctor's visit in 2023 may cost you about $40 to $50 while an X-ray could be about $24 to $30.
All of this is much cheaper than the American healthcare system, which is one reason American retirees flock to Mexico.
Entertainment
Mexico is a huge country with plenty of entertainment to offer. Some cultural sites are free to visit and paid options like nightlife, cafés, and guided tours are relatively cheap.
At the time of this writing, a 60 Mbps internet connection is about $27. Movie tickets are also low-cost at around $4 a seat on average.
Average income in Mexico
The average income in Mexico is under $700 a month, though this may very well be higher for digital nomads who relocate there.
The minimum wage in Mexico is about $10 an hour.
Currency in Mexico
The currency in Mexico is the Mexican peso, which is lower in value than USD, so your dollar goes farther if you're relocating from the USA.
Most tourist areas and city centers also accept payments in USD, but you may have to pay a higher exchange rate.
Instead, consider converting your cash beforehand—or using an ATM there.
Credit cards are accepted in many parts of Mexico, but it's helpful to carry cash, especially if you're visiting or living in the small towns.
Sending money to Mexico
When you move to Mexico, you'll need a safe, convenient option for transferring money across borders. Remitly can help.
Remitly makes international money transfers faster, easier, more transparent, and more affordable. Our reliable and easy-to-use mobile app is trusted by over 5 million people around the world.
Download the app today to start your free account and redeem a new customer offer.
Further reading